ABOUT WFL
We are Small Team of Creative People working together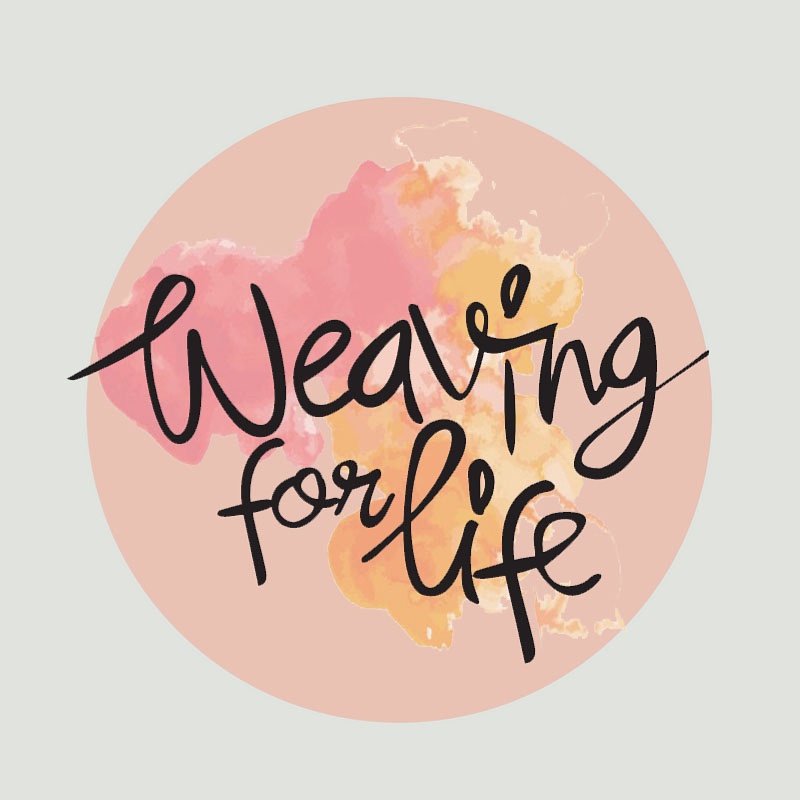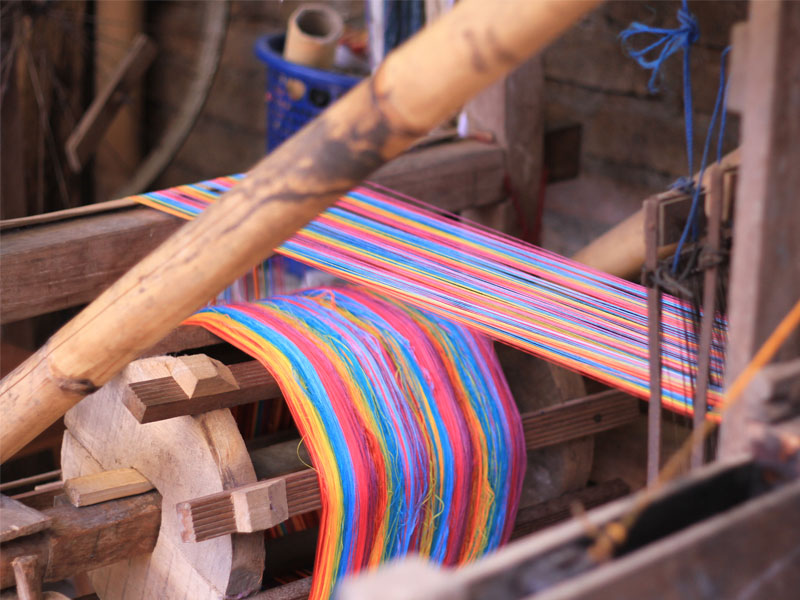 Weaving for Life is an initiative to weave stories of women handweaver's life and their handwoven across Indonesia, preserves and connect them to you.
In most part of Indonesia, women weave for their living by making tenun (Indonesian language for handwoven). The purpose is beyond economic. This intricate fabric has been with us since centuries ago that it has reserved rooted functions – from social, religious, up to aesthetic purposes.
Tenun are widespread in at least 29 provinces in Indonesia. Each place, has their own identities. Some make it simple by buying threads and weave them by machine. Some dare to go extra miles to keep the tradition alive.
In villages in East Nusa Tenggara, women weavers start the tenun making by spin the cotton, mix the natural dyes, and design the patterns inspired by their day-to-day life and beliefs. Some would include resemblance of rivers and mountains in their tenun. The other would have their pray all over the fabrics. It's like painting with threads.
These traditional style faces the challenges of modern day. One, the decreasing weavers. Two, competition from factory-made textiles. Three, the time-consuming production process. This realistic economic need has often trumped the preservation of traditional value, making the original tenun harder to find.
Weaving for Life is an initiative trying to bridge this challenges. We promote better trading conditions of traditional tenun Indonesia by partnering with women weavers and support their product development without compensating its traditional value.
We also passionate in connecting these weavers to you by sharing the stories behind the making of our products. By having our products, you have contributed in enabling more women to use tenun as the means to improve their standards of living.
Experienced & Professional Team
You can relay on our amazing features list and also our customer services will
be great experience for you without doubt and in no-time
Inisiator
is the chairperson and co-founder of LAWE INDONESIA, a social enterprise whose mission is to empower women through the conservation of local traditions Indonesia's indigenous hand-woven fabrics
Together with Global Environment Facility – Small Grant Programme Indonesia, Adinindyah & Catharina inisiated to developed Weaving for Life programme, a movement for increasing the Indonesia's women voice through traditional hand-woven
has been working in development sector for more than thirteen years. She is experienced in environmental-based programs in Indonesia, especially related with grant and project management, strategic planning, community-based approaches, and small scale enterprise development. She possesses strong managerial skills in various scales of programs with local, national, and international networks and skillful in maintaining networks, project management, knowledge management, organizational development, research, and initiating collaboration with individual experts, NGOs, Community Based Organizations (CBOs), government, and national and international development agencies. Catharina is also a well-trained facilitator with specialties on strategic planning and organizational development. Her works include developing communication and outreach materials such as websites, books, and films and facilitating local communities especially for program development.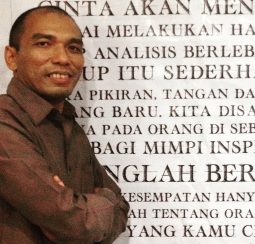 Knowledge Management Manager
As a Knowledge Management Manager for the Weaving For Life program.
Members of the Terasmitra strategy team and partner facilitators at the Principia Learning Lab., In addition to carrying out his main duties as Executive Directors at Perkumpulan Bali Lite Institute, focus on managing knowledge and learning. With a journalist background, Dicky actively writes and trains community knowledge management in various places in Indonesia. From 1994, Dicky was involved in publishing more than 16 book titles.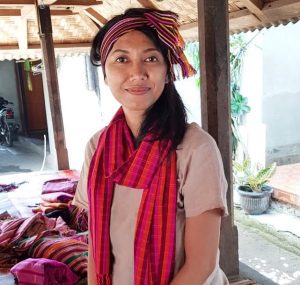 Art & Fashion Manager
Under Lawe Indonesia she concepting & managing visualizaton of the WFL website from interface to content, art directing support for WFL programs, supporting program for fashion collaboration & events. She collaborated with Lawe Indonesia since 2006 designing & produced a limited capsule fashion collection to using the local handwoven from the handweaver communities from Yogyakarta, TTU & TTS NTT.
Amber Kusuma is an artist / fashion designer/fashion-preneur /founder for fashion label Amber Kusuma (AK), Revo-Fash (RVFSH). She is enthusiast in sustainable, upcycle fashion, kids & women empowering issues. Her Previous work is founder of Serat Fashion Course and Senior Creative Designer for Centro Dept Store at Sentosa Group Jakarta.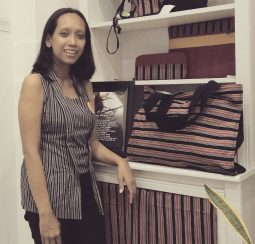 Fitria Werdiningsih
Weaving Trip Coordinator WFL
She is the program manager of LAWE, a community social enterprise whose mission is to empower women through the conservation of local traditions.
(Joining Lawe since Dec 2006) handle the collaboration program with the Hiroshima University of Economics who runs their social program in Yogyakarta and  also the representative of Lawe in collaboration with The Blessing Basket Project from United States of America.
She also serves as ILO-SCORE Program Coach for micro and small enterprises in Indonesia together with BEDO – Business and Export Development Organization based in Bali.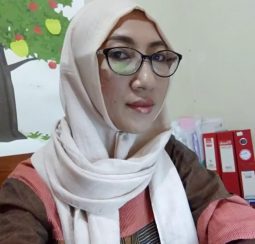 Herlin Siswanti
WFL Fund Raising Coordinator
Since 2016 handling production & distribution WFL products under Lawe supported by Terasmitra and managed the collaboration with other parties to   raise  and share the profits of the selling products for WFL Campaigns.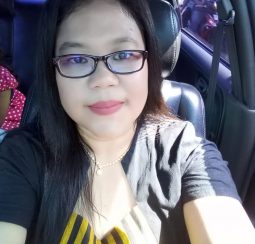 Dian Pratiwi
Production Coordinator
She is handling for WFL wovens storages, stocks and handling production for WFL products.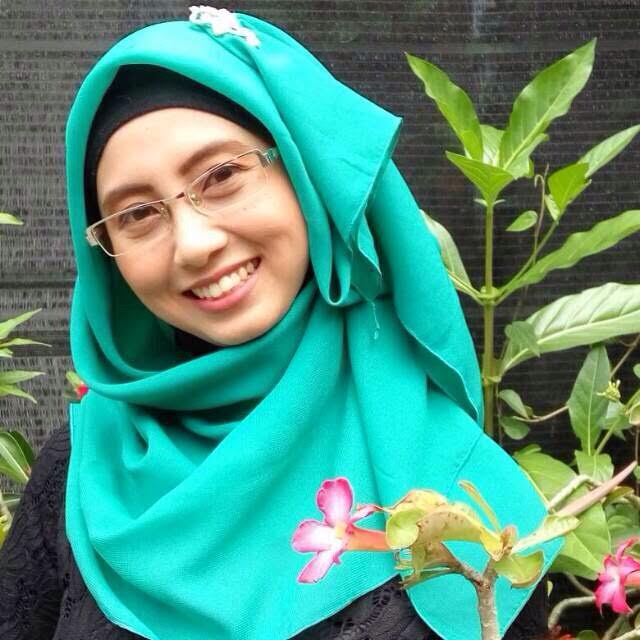 Rr. Anggraeni Sulistyawati, SP.
Finance Manager
Anggraeni Sulistyawati take care of finance, spending and bookkeeping records and manage the budget of all financing of Weaving For Life Program.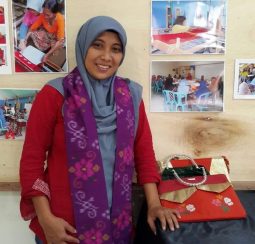 Wiraswati Yuliani
Trainings Coordinator program
As the WFL Trainings Coordinator and LAWE Association Operations Manager. actively providing training for local women in weaving, sewing and making other crafts, as well as design and product development in Yogyakarta, Central Lombok, Kupang, Jember, Pontianak, Palu. empowering the disability groups of the Yogyakarta Earthquake survivors in 2006 and SLB students in Yogyakarta in a self-reliance program living through training and development activities in weaving, sewing and making crafts using recycled materials.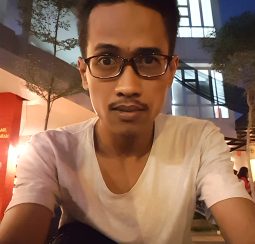 Bara Hakimi Rizki Gumilang
Media Coordinator
As a Media Coordinator (online & offline) and as a photographer of finished products / fabrics for promotional / branding content and uploaded on social media.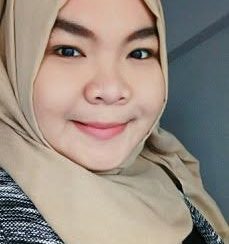 Arisca Deviyanti
Admin pengembangan produk
As Admin, Weaving For Life product development and help market products and Weaving For Life programs. explain to customers and tell about programs and Weaving For Life products while Offline at exhibitions and bazaars or Online
on Social Media (Facebook, Instagram, WhatsApp Messenger, Website and Twitter).
Serve customers well and promote Weaving For Life weaving products and products.